Let us entertain you!
There's a raft of exciting and uplifting entertainment on offer at Worcester's traditional Victorian Christmas Fayre this year.
Street entertainers

The Worcester Victorian Fayre wouldn't be complete without our wonderful walkabout entertainers!  These lofty fellows have been entertaining our crowds since the very beginning of the event in 1992 and we are delighted to welcome them back this year for all four days of the event.
The team has performed internationally for many years!  Look out for them roaming around as various characters including their Victorian Festive Gentlemen Jugglers, performing splendid juggling and witty banter as they go!
Buskers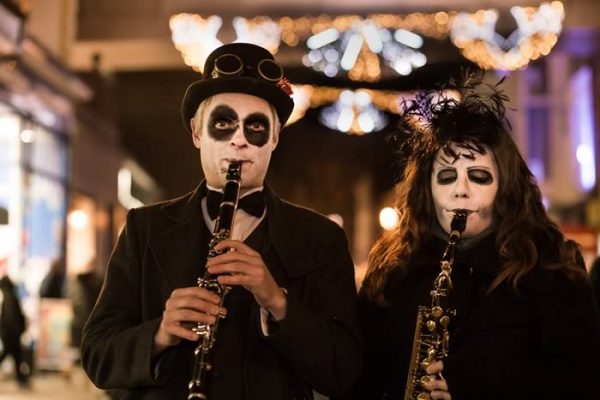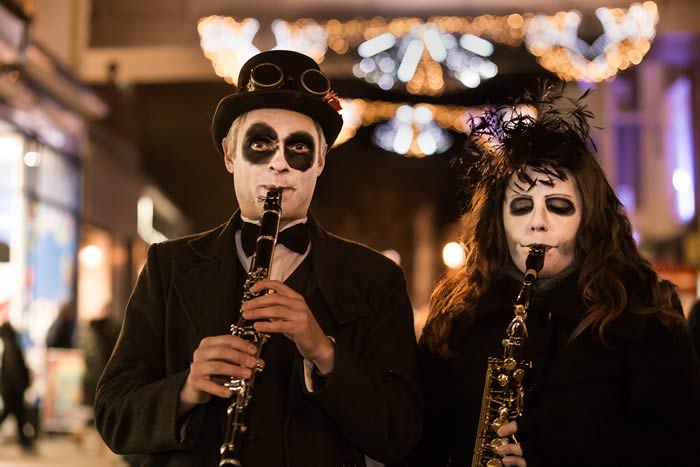 We have invited Worcester musicians to join us on the streets to celebrate the Victorian Fayre! There should be plenty of opportunities to sing along with our buskers throughout the event, they'll be popping up and playing all over the city for all four days.
Cardinals Hat stage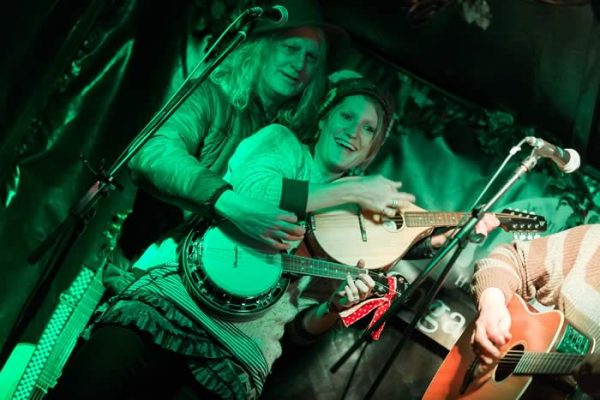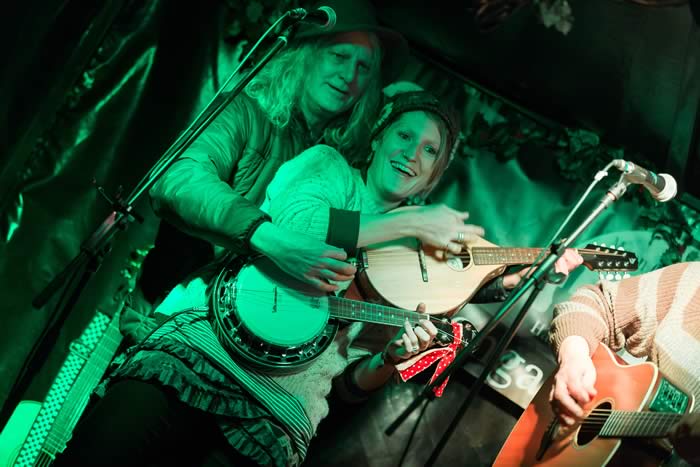 The Cardinals Hat on Friar Street will host a stage of live music and entertainment during the Fayre. Join Nigel and the team for a fun-filled programme of local music with a few surprises thrown in! The Cardinals Hat is a friendly and informal pub with a great selection of real ale and freshly prepared pub snacks as well as boutique hotel rooms.
Thursday: 12:00 – 20:00
Friday: 11:00 – 21:00
Saturday: 11:00 – 21:00
Sunday: 11:00 – 16:00
Beer Festival
Hidden in the cobbled yard of Tudor House, The Cardinal's Hat team bring you the best beers from local breweries in their annual pop-up Winter Beer Festival. The Fayre's best kept secret!
Thursday: 12:00 – 22:00
Friday: 11:00 – 22:00
Saturday: 11:00 – 22:00
Sunday: 11:00 – 17:00
Hop Market Fringe Event
Visit The Hopmarket Courtyard for a day of festive activities and entertainment. The Hopmarket is just a minute's walk from Foregate station and an ideal place to stop off to browse the shops for Christmas gifts or enjoy refreshments at one of the cafes. Activities include lantern making, face painting, Christmas arts and crafts, 'pop up' art gallery and live entertainment.
Saturday 1 December: 10:00 – 17:00
Opening Ceremony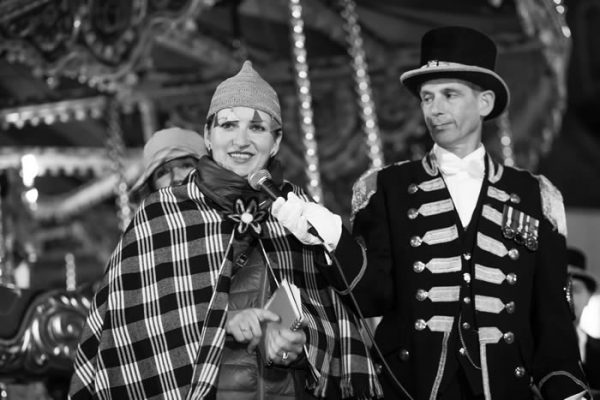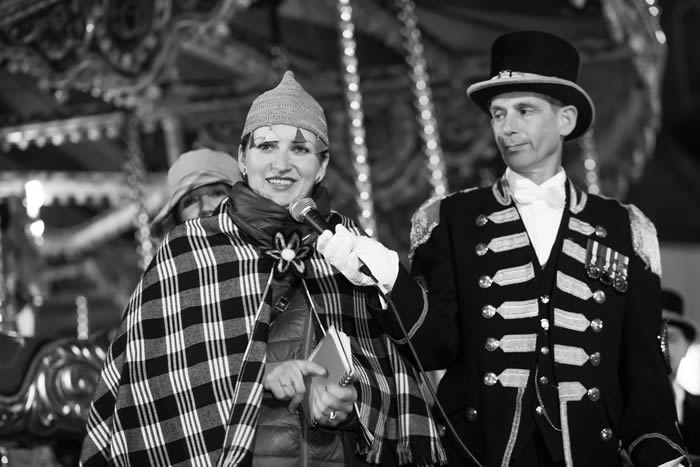 At 16:45 on Thursday there will be a community Carol Service taking place in Worcester Cathedral where all are welcome. Following the service at 17:15 there will be a procession from the Cathedral to the Cornmarket where the official opening ceremony will take place by the Mayor of Worcester.
Be entertained by performances from the Salvation Army and Worcester Cathedral Voluntary Choir.  The opening ceremony will close at 18:00.
Gin Lane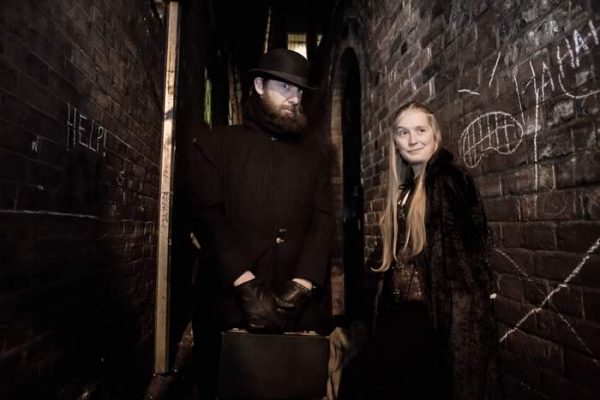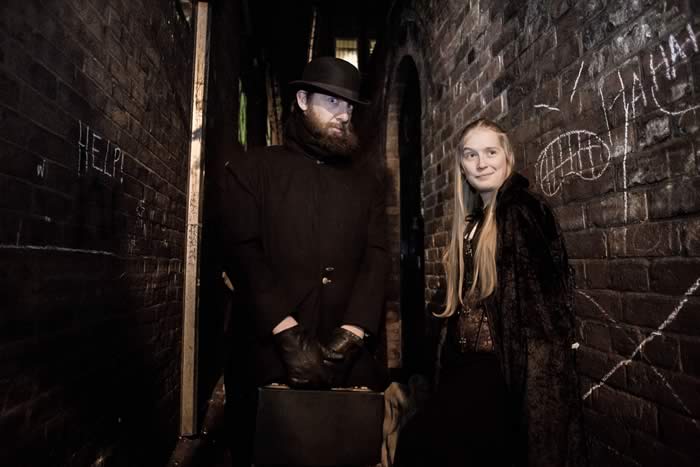 Step back in time and into the dark world of 'Gin Lane': a Victorian alleyway with its debauched inhabitants, cast out of society due to their unsavory behavior!
Back for a fourth slice of mischief, this immersive and playful installation brings you shady characters, performances and sing-songs to provide an alternative Victorian experience.
Make your way down the Shambles and look for this precarious alleyway to hang out amongst the hawkers and flower sellers, magic and alchemy, urchins, gin addiction, singing and dancing…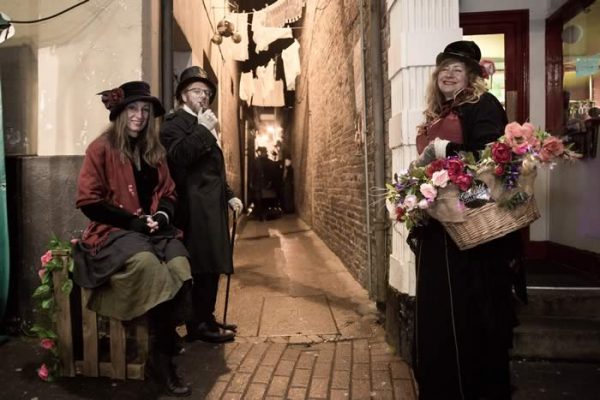 Gin Lane, produced by Clik Clik Collective, combines the talents of local artists and performers. Come sing-a-long with 'Play it again Dan' (Dan Bramhall) tinkling the ivories to bring the old Music Halls back to life, and watch out for your pockets as 'Worcester Theatre Makers' are back, accompanied by mischievous urchins from their youth theatre and after school clubs. There will be a diverse and unruly gang of characters lurking over the two days so get ready to wash away those Victorian blues and bring the Worcester Victorian fair cheekily into disrepute!
You can find Gin Lane between New Street and The Shambles Friday 17:00 – 21:00 & Saturday 15:00 – 19:00
Victorian Flower Seller roaming photo-booth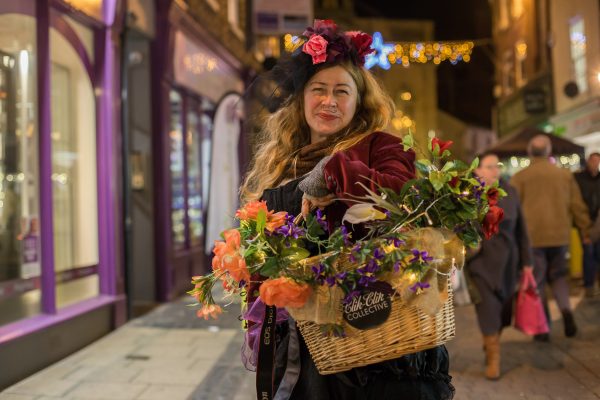 Look out for this colourful character wandering about during the Fayre! Don't be shy, she's here to take your photograph behind her gold gilt frame capturing that festive moment (she will even give you props if you want).  After the event you can find your face via the Fayre's social media pages. This mobile photo-booth experience will put a smile on your very own Victorian face!
Find the flower seller on Thursday & Sunday 13:00 – 16:00.
Gin Festival
The Old Cross Keys is bought back to life for this weekend only, enjoy all the intrigue and colour of a Victorian Gin Palace, with an extensive range of 35 delicious gins.
Thursday: 12:00 – 22:00
Friday: 11:00 – 22:00
Saturday: 11:00 – 22:00
Sunday: 11:00 – 17:00
Main Stage – Cathedral Square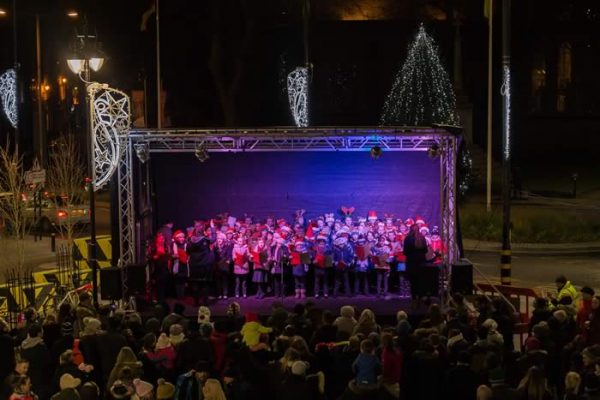 | Time | Performance |
| --- | --- |
| 12.00 - 12.30 | Hollie-Blue |
| 13.00 - 13.30 | Carnfourth School |
| 14.00 - 14.30 | Pippa Langhorne |
| 15.00 - 15.30 | Shulah Oliver - Violin |
| 16.00 - 17.00 | Hollymount School |
| 17.00 - 18.00 | Opening Ceremony at Cornmarket |
| 18.00 - 18.30 | All Sorts of Performing Arts |
| 19.00 - 20.00 | Lyppard Grange Primary School |
| 20.00 - 20.45 | Hilary, Laki, Gil & Co |
Bell Square – Crowngate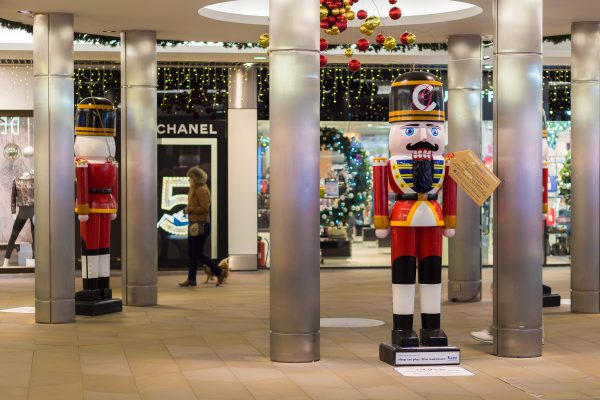 | Time | Performance |
| --- | --- |
| 12.00 - 12.30 | TBC |
| 13.00 - 13.30 | TBC |
| 14.00 - 14.30 | Hollie-Blue |
| 15:00 - 15:30 | TBC |
| 16:00 - 16:30 | Mandy Harding - Saxophonist |
| 17.00 - 18.00 | Opening Ceremony at Cornmarket |
| 17:30 - 17:30 | Perdiswell Primary School |
| 18:00 - 18:45 | Hilary, Laki, Gil & Co |
| 19.00 - 20.00 | Worcester Male Voice Choir |
Main Stage – Cathedral Square
| Time | Performance |
| --- | --- |
| 11.00 - 11.30 | Carnforth School |
| 12.00 - 12.30 | Perry Wood Primary & Nursery School Choir |
| 13.00 - 13.30 | Fort Royal Community Primary School |
| 14.00 - 14.30 | Pippa Langhorne |
| 15:00 - 15:30 | Shulah Oliver - Violin |
| 15:45 - 17:45 | RMA - Des George |
| 18.00 - 18:30 | Cherry Orchard Primary School Worcester - Choir |
| 19.00 - 20.00 | Elgar School of Music Folk Emsemble |
| 20.30 - 21.00 | Worcester Operatic and Dramatic Society (WODS) |
Bell Square
| Time | Performance |
| --- | --- |
| 12.00 - 12.30 | Red Hill Primary School |
| 13.30 - 14.00 | St. Barnabas C E Primary |
| 14.30 - 15.15 | Mandy Harding - Saxophonist |
| 15.30 - 16.00 | Hollie-Blue |
| 16.30 - 17.00 | TBC |
| 17.30 - 18.00 | Nunnery Wood High School |
| 18.30 - 19.00 | The Ledbury Waytes |
Main Stage – Cathedral Square
| Time | Performance |
| --- | --- |
| 10.00 - 11.00 | Hilary and Laki |
| 11.00 - 11.30 | Shulah Oliver - Violin |
| 11:45 - 12:15 | Voices Unlimited |
| 12:45 - 13:10 | Good Vibrations - Deaf Direct Singing Choir |
| 13:30 - 14.00 | Cathedral Voluntary Choir |
| 14.30 - 15.00 | Voices Unlimited |
| 15.30 - 16.30 | Worcestershire Rock Choir and Tewkesbury |
| 17.00 - 18.00 | Lollipop Youth Theatre |
| 18.15 - 19:00 | The Ledbury Waytes |
| 19.15 - 20.45 | Loco Show Co. |
Bell Square
| Time | Performance |
| --- | --- |
| 10.00 - 10.30 | The Salvation Army Band |
| 11.00 - 12.00 | Vale Harmony |
| 12.30 - 13.30 | Worcester Concert Brass |
| 14.00 - 14.30 | Good Vibrations - Deaf Direct Singing Choir |
| 14.45 - 15.30 | Rough Diamonds |
| 15.45 - 16.15 | U3A - Evesham Singers |
| 16.30 - 17:00 | Vocal High |
| 17:30 - 18:00 | TBC |
| 18:30 - 19:00 | TBC |
Main Stage – Cathedral Square
| Time | Performance |
| --- | --- |
| 11.00 - 11.45 | St Peter's Baptist Church |
| 12.00 -12.30 | Old Meg Morris |
| 13.00 - 13.30 | All sorts of Performing arts |
| 14.00 - 14:30 | Old Meg Morris |
| 15.00 - 15:30pm | Pippa Langhorne |
| 16.00 - 16:300 | Old Meg Morris |
Bell Square
| Time | Performance |
| --- | --- |
| 11.30 - 12.15 | Five on Friday Saxophone Quartet |
| 12.30 - 13.00 | Foxs Morris |
| 13.15 - 14:15 | Worcester Ukulele Club |
| 14.30 - 15.00 | Foxs Morris |
| 15.15 - 16.00 | Got 2 Sing Choir |