Let us entertain you!
There's a raft of exciting and uplifting entertainment on offer at Worcester's traditional Victorian Christmas Fayre this year.
Gin Lane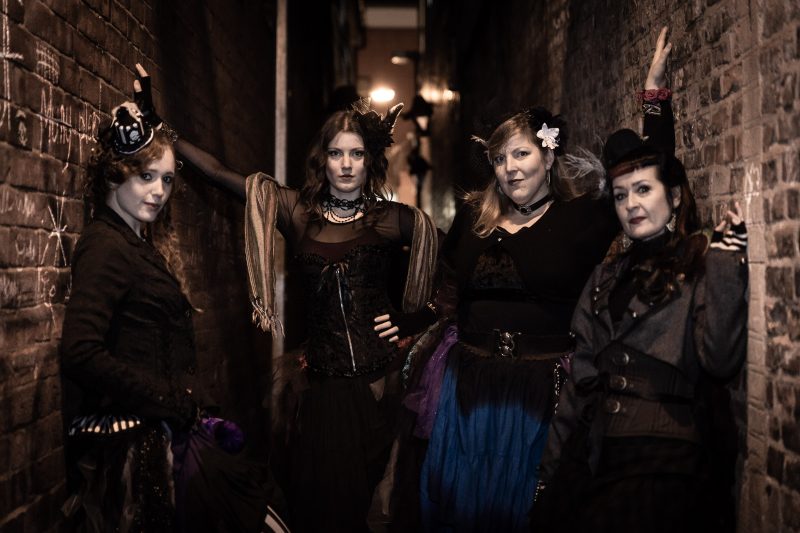 Return to a time when the alley dwellers inhabited the streets; a time of pickpockets, magic music halls, and many unsavoury sorts! Welcome to the dark and playful world of 'Gin Lane': a Victorian alleyway with its debauched inhabitants, cast out of society and looking to make a quick sixpence or two!
Returning home to their now plague-free and fumigated alley dwelling, the inhabitants are back for a 6th-slice of mischief bringing an immersive and cheeky installation with shady characters, performances, and sing-songs to provide an alternative Victorian experience.
Make your way down the Shambles and look for this precarious alleyway to hang out amongst the hawkers and flower sellers, magic and alchemy, urchins, gin addiction, singing, and dancing….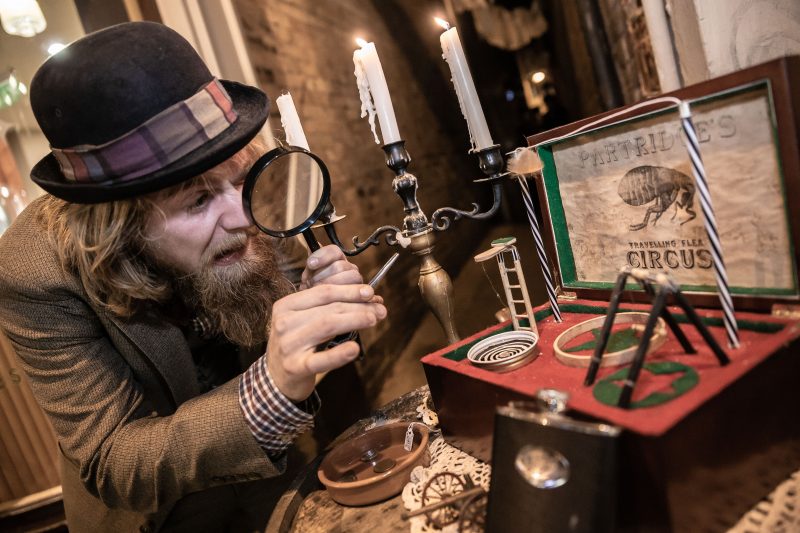 Gin Lane produced by Clik Clik Collective combines the talents of local artists and performers. Come sing along with 'Play It Again Dan' (Dan Bramhall) tinkling the ivories to bring the old Music-halls back to life while 'Lee's Fleas' will keep you entertained. And watch those pockets as the urchins from Worcester Theatre Makers are prowling……
You can find Gin Lane between New street and The Shambles Sat 4pm-8pm and Sun 12pm-4pm.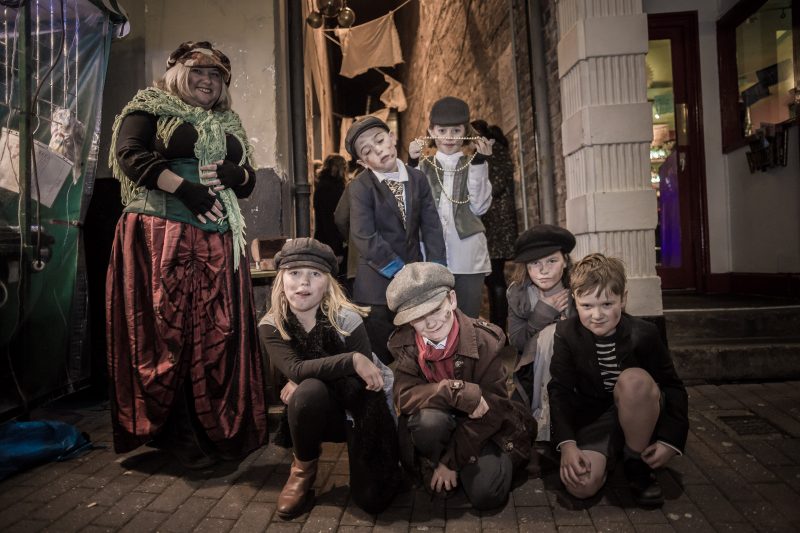 Temperance Lady
Beware of our Temperance lady as she tries to get you to sign the pledge in denouncing the demon drink. She has the skills to sneak up on you when you least expect it, and will use her wit and charm to make you leave the fun and festivities behind. Is she really as loyal to the cause as she suggests? Find her on Thursday 2 December 1pm – 4pm.
Opening Ceremony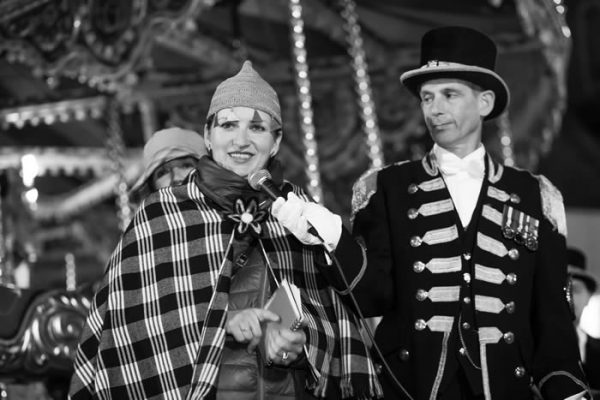 Stilt Walkers

These lofty fellows have been entertaining our crowds since the very beginning of the event in 1992 and we are delighted to welcome them back this year. Look out for them roaming around as various characters including their Victorian Festive Gentlemen Jugglers, performing splendid juggling and witty banter as they go! See them from 2nd – 5th December am & pm.  Friar Street beer festival & gin palace at Tudor House too that'd be great. Open each day of the Fayre.
Cardinal's Hat Stage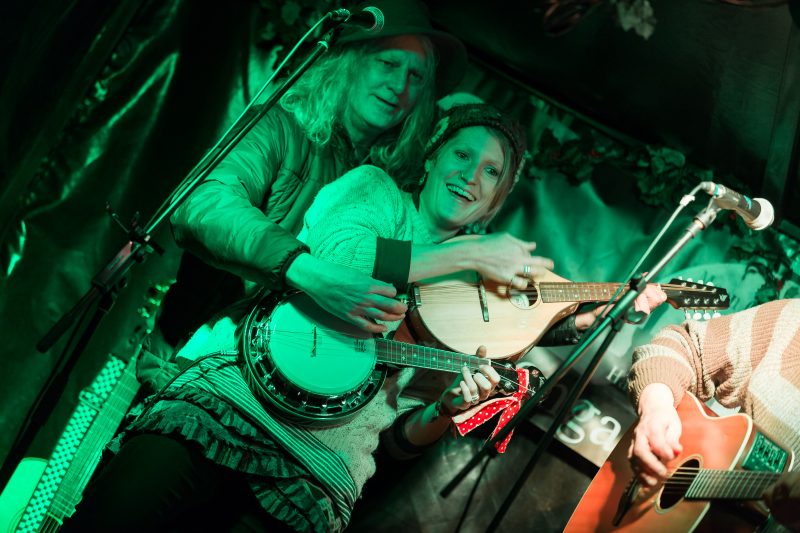 The Cardinal's Hat on Friar Street will host a stage of live music and entertainment during the Fayre. Join Nigel and the team for a fun-filled programme of local music with a few surprises thrown in! The Cardinal's Hat is a friendly and informal pub with a great selection of real ale and freshly prepared pub snacks as well as boutique hotel rooms.
The team from the Hat will also be hosting a pop-up Friar Street beer festival and gin palace at Tudor House throughout the event.
Scrooge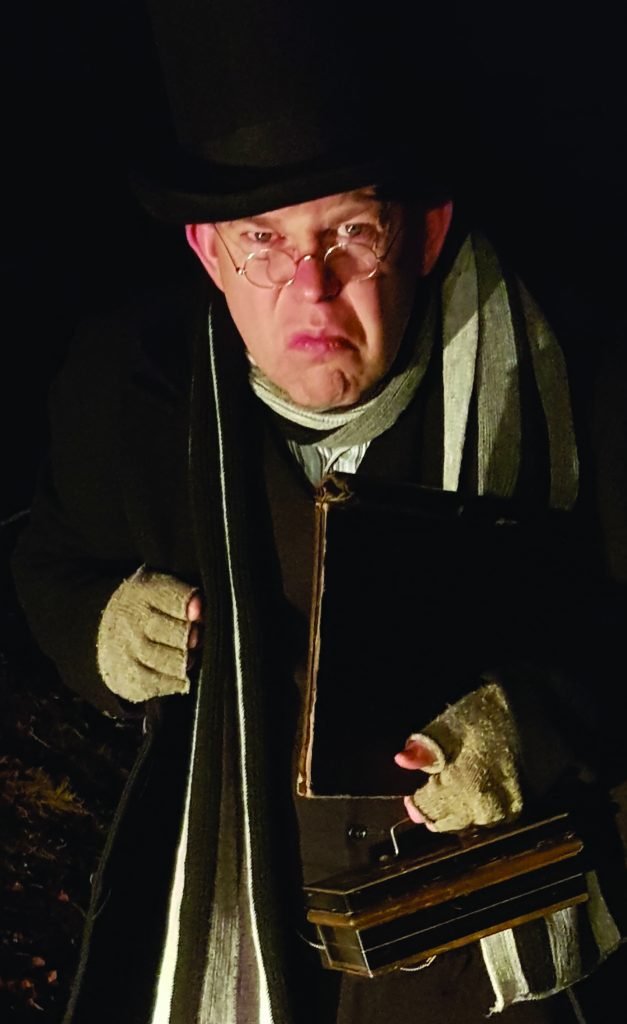 See if you can spot Scrooge as he meanders and moans his way through the festivities of the fair. It takes a brave person to wish him a Merry Christmas…. Are you up to that challenge? Take a photo with him and see if you are the lucky individual that captures a smile upon his face. Find Scrooge on Thursday 2nd December 1pm – 4pm.
Sherlock Homes and Dr Watson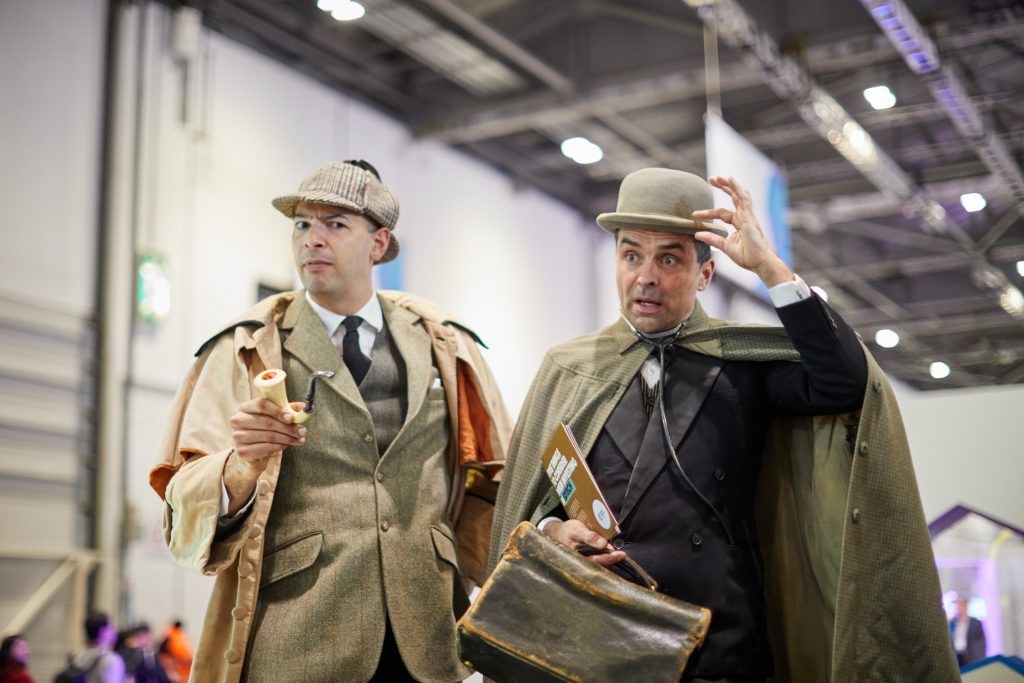 Cathedral Square – Main Stage
| Times | Performer |
| --- | --- |
| 12:30 - 13:00 | Red Hill Primary School |
| 13.15 - 13.45 | Perry Wood Primary and Nursery School School Choir |
| 14:00 - 14:30 | Tudor Grange Primary Academy |
| 14:30 - 15.00 | Carnforth Primary School |
| 15.15 - 16.30 | Griff Collins Guitar/vocalist |
| 17:30 - 18.30 | Lyppard Grange Primary School |
| 18.30 - 19:30 | Worcester Ukulele Club |
| 20.00 - 21:00 | Elgar School Of Music |
Bell Square – Crowngate Shopping Centre
| Times | Performer |
| --- | --- |
| 12.00 - 12.30 | St Barnabas C of E Primary School |
| 13.00 - 13:45 | TBC |
| 14.00 - 14.30 | St Georges Catholic Primary School |
| 15.00 - 16:00 | Mandy Harding Saxaphone |
| 16:00 - 16:45 | TBC |
| 17.30 - 18.00 | TBC |
| 18.00 - 18.45 | TBC |
| 19.00 - 20.00 | TBC |
Cathedral Square – Main Stage
| Times | Performer |
| --- | --- |
| 11.00 - 11.45 | Hollymount School |
| 12.00 - 13:00 | Pippa Longhorne |
| 14.00 - 14.30 | Oldbury park Primary School |
| 14.45 - 15:15 | King's St Alban's Year 4 Choir |
| 15.30 - 16:30 | Band Age |
| 17:00 - 17:30 | Loz Rushton Quartet |
| 17:45 - 18:15 | Elizabeth MacDonald - Soprano |
| 18.30 - 19.30 | Worcester Ukulele Club |
| 19.40 - 19:50 | TBC |
| 20.00 - 21.00 | Nastee Chapel Folk Music |
Bell Square – Crowngate Shopping Centre
| Times | Performer |
| --- | --- |
| 11.30 - 12:00 | TBC |
| 12.30 - 13.30 | Mandy Harding Saxaphone |
| 14.00 - 15.00 | Pippa Longhorne |
| 15.30 - 16.00 | TBC |
| 16.30 - 17.00 | TBC |
| 17.30 - 18.00 | TBC |
| 18.30 - 19.30 | TBC |
| 19:45 - 20:30 | I -sing choir (Helen Jones) |
Cathedral Square – Main Stage
| Times | Performer |
| --- | --- |
| 10.00 - 11.00 | The Salvation Army |
| 11.00 - 12.00 | I -sing choir (Helen Jones) |
| 12.00 - 13.30 | Old Meg Morris ( 3x 20mins sets ) |
| 13:30 - 14.30 | Split Second band |
| 15.00 - 16:00 | Voice Unlimited |
| 16:00 - 17:00 | Lollipops Youth Theatre |
| 17.15 - 18.00 | Loco Show Co. |
| 18.00- 18.45 | All sorts performing Arts |
| 19.00 - 20:00 | I -sing choir (Helen Jones) |
Bell Square – Crowngate Shopping Centre
| Times | Performer |
| --- | --- |
| 10:00 - 11:00 | Mandy Harding Saxaphone |
| 11:00 - 12:30 | Worcester Concert Brass |
| 12:45 - 13:45 | Worcester Ukulele Club |
| 14:00 - 16:00 | Worcester Male Voice Choir |
| 16:15 - 17:15 | I -sing choir (Helen Jones) |
| 17:30 - 18:00 | Chris Clarke Solo acoustic singer |
| 18:15 - 19:15 | TBC |
Cathedral Square – Main Stage
| Times | Performer |
| --- | --- |
| 11.00 - 11.45 | Joseph Morris /Singer |
| 12.00 - 13.00 | Got to Sing |
| 13.15- 14.15 | Essential Sign language choir |
| 14.30 - 15.30 | Rock Choir |
| 16.00 - 17:00 | I -sing choir (Helen Jones) |
Bell Square – Crowngate Shopping Centre
| Times | Performer |
| --- | --- |
| 11.30 - 12.15 | Mandy Harding Saxaphone |
| 12.30 - 13.30 | Worcester Ukulele Club |
| 13.45 - 14.45 | Appleyard dancers |
| 15.00 - 16.00 | Foxes Morris |
| 16.15 - 17:00 | TBC |
Performances are subject to change